Right so more issues basically. I really hope i can get this sorted before FITP.
So ive got my inlet manifold back on, idles fine but not boosting properly, very stuttery, i know it needs to be setup to be 100% but it was better than this before.
Also my exhaust blow from the turbo seemed to be louder.
Anyways i hooked a boost gauge up, and its only boosting at 9psi, put this down the exhaust blow, which upon further investigation is coming from turbo to manifold gasket. (which makes sense)
I also took the removable element out of the fuel filter, (which was full of crap) blew it out with airline, cleaned the plugs up and went for a test drive and she was much better. I do now have new plugs but they are not in. Need to order new fuel filter too.
I was desparate to sort the exhaust blow, but you know when you get that feeling youve started do something thats gnna take a long time.... The turbo/manifold assembly was a nightmare to get out as it had to come out in one piece. I had the car on a 2 post ramp and then had to jack the engine/gearbox up to manage to manouvure it out (brake linkage is what made this so hard). This was after struggling getting a downpipe to turbo bolt out that was mashed and having to take some manifold to head stubs out with everything in situ.
Some pictures will tell some talking...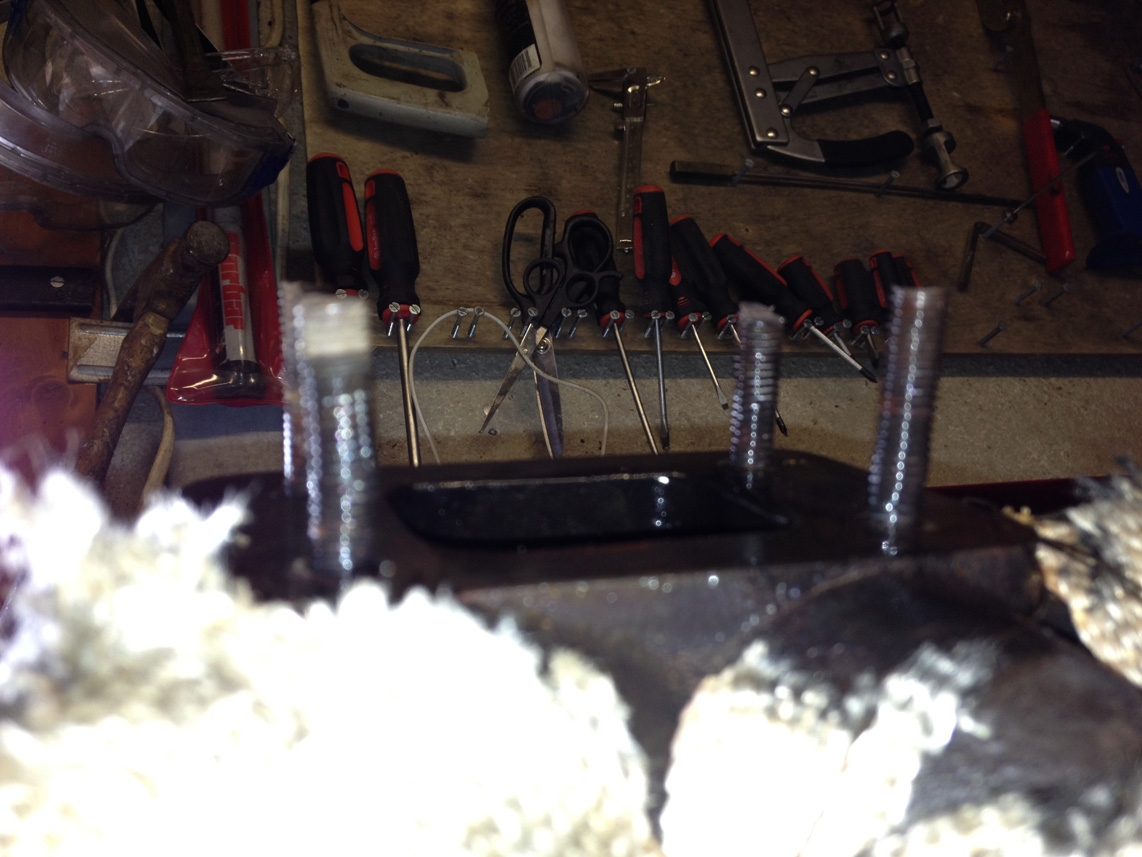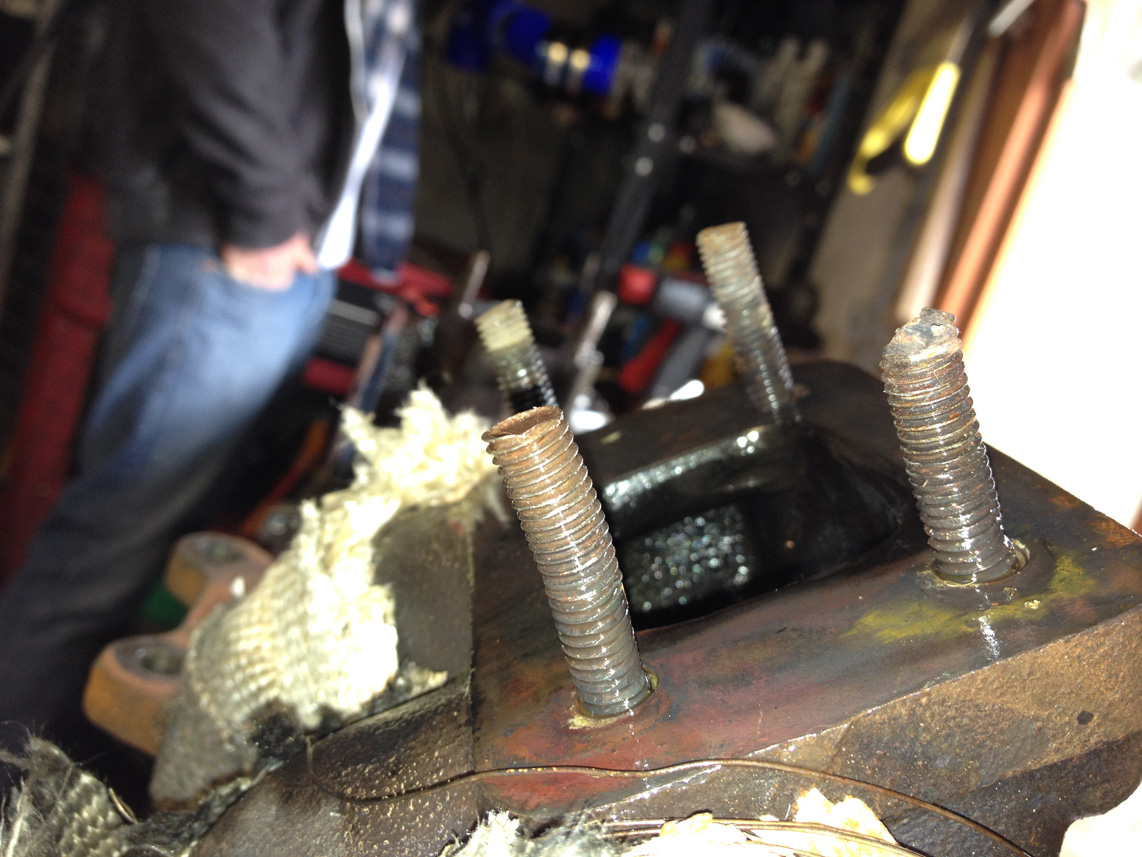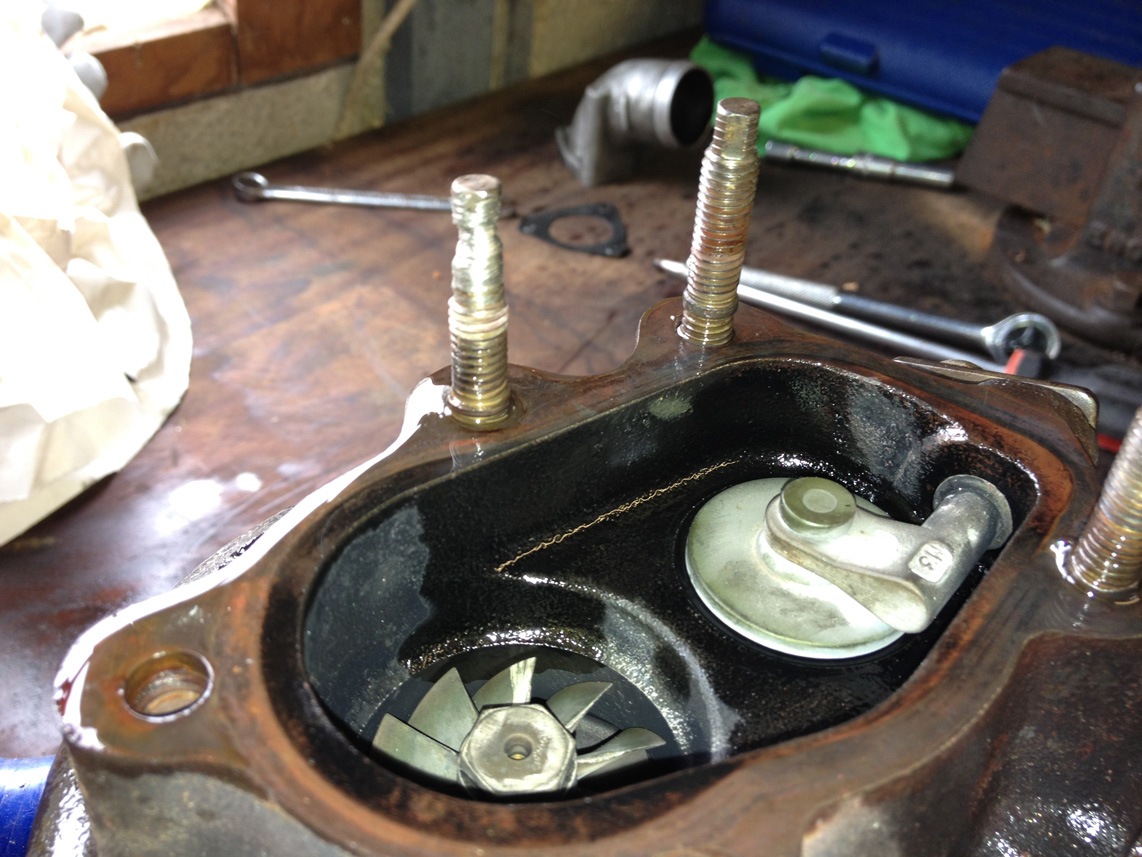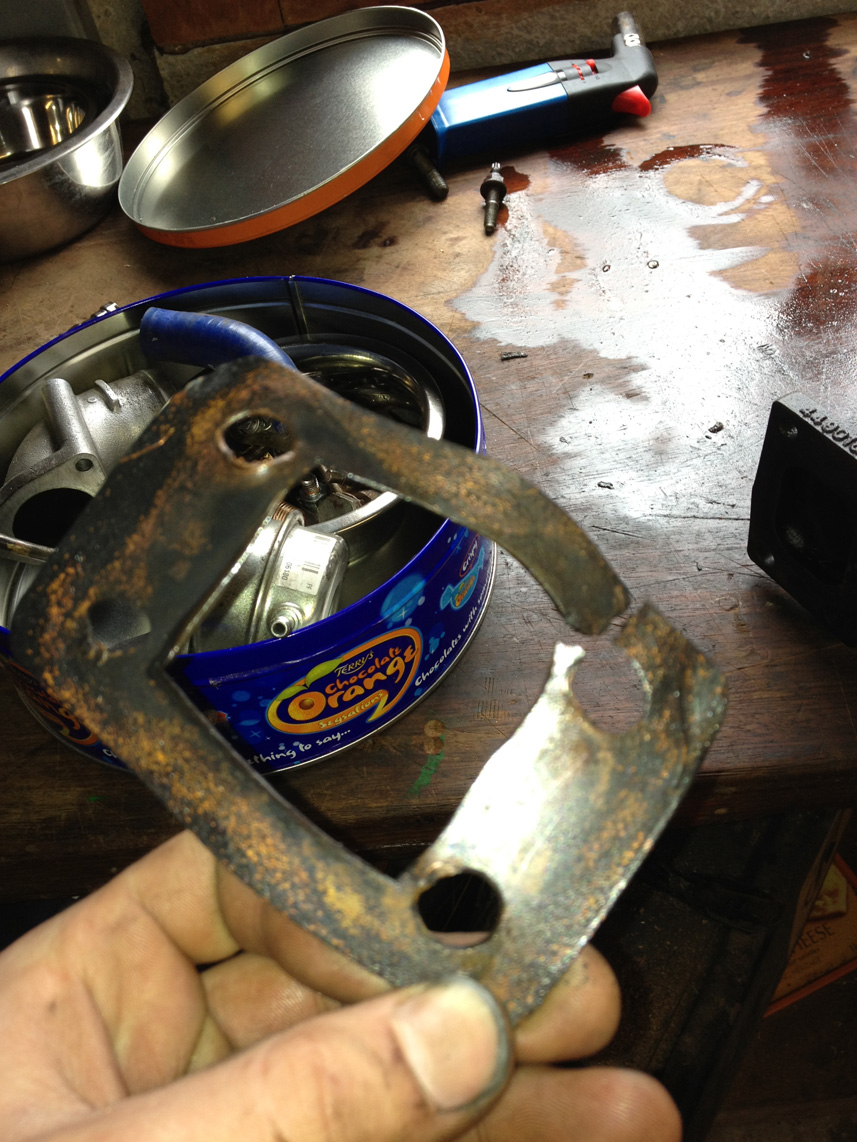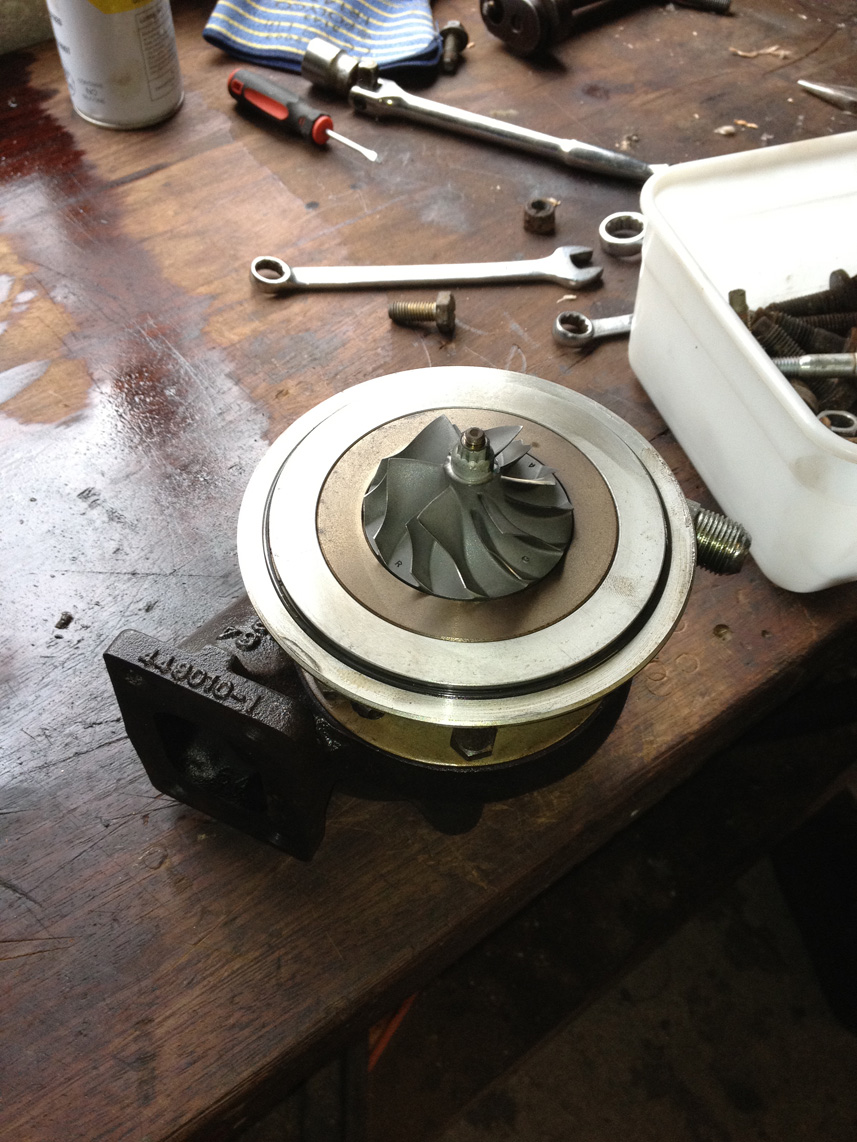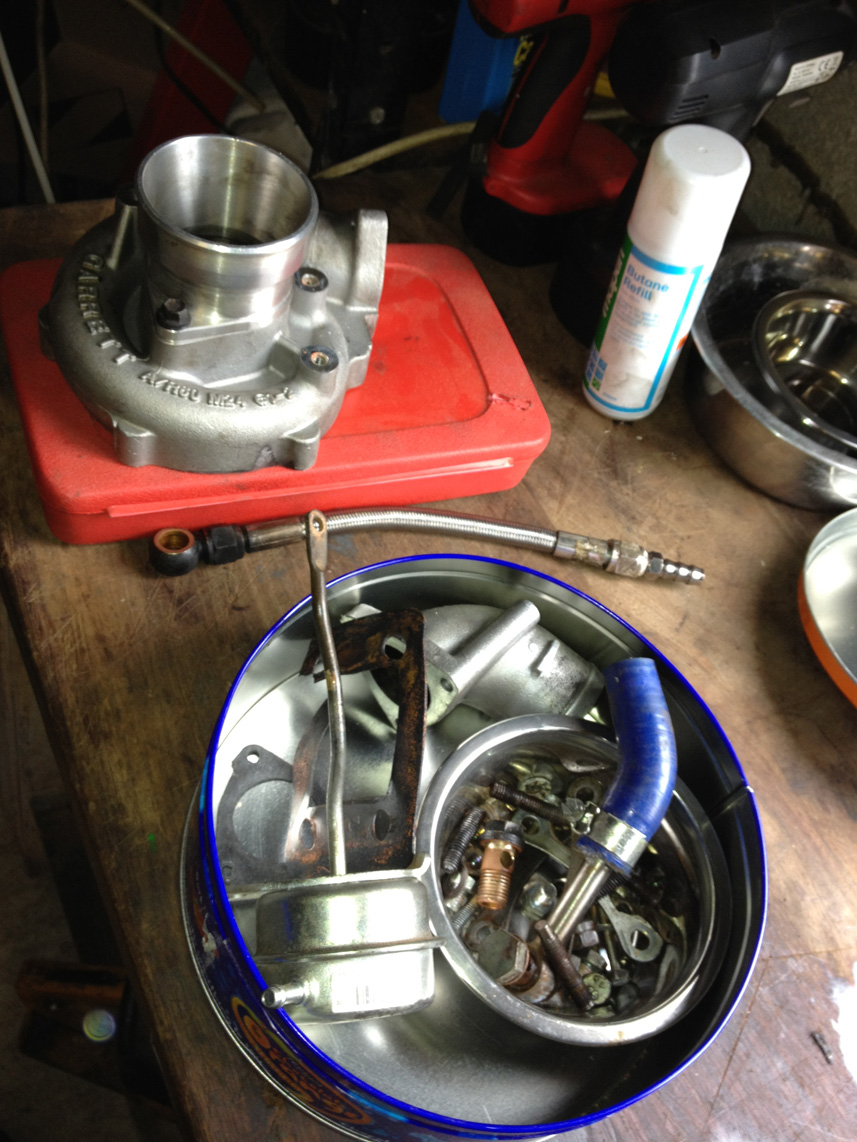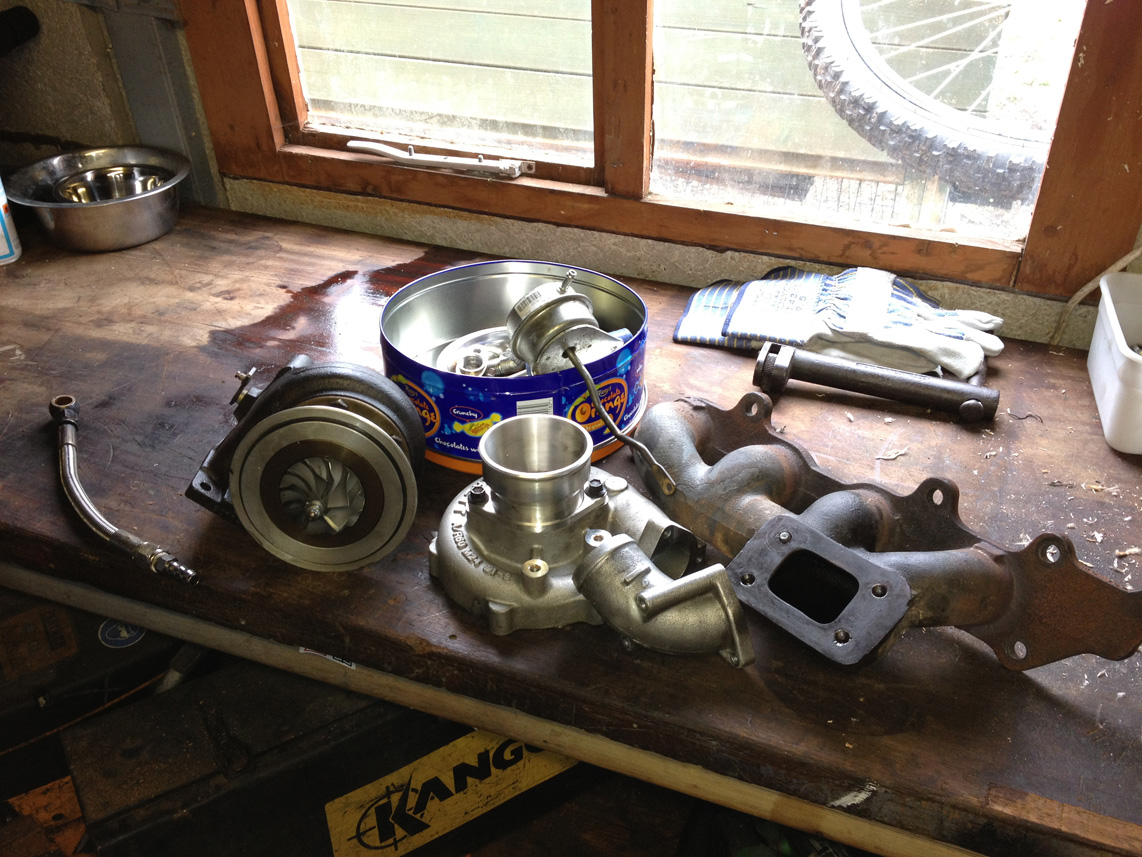 Every stud from the manifold to turbo is bent. Not to mention that none of the bolts where actually tight lol. I put this down to the fact that the turbo had been hitting the brake linkage (which ive allready amended). The more concerning part to these studs... not to sure what thread size studs its ment to have from manifold/turbo but its been helicoiled with 8mm inserts.... (now removed) apart from one that snapped.
So ive got too get the snapped stud out, then get it sorted to take whatever size its ment too take. (anyone know?)
Also the totalled stud in the turbine housing snapped whilst getting out.
Its allways had a little leak from turbo area, ive put this down to the fact that the oil return flange was finger tight (&oil return gasket was naffed) and then the fact the turbo/manifold gasket was in pieces this was blowing oil residue around.
As i want to replace all gaskets, copper washers etc for bango bolts, water/oil lines ive had to take the compressor housing off to get to some of the bolts.
Shopping list is: New studs for everything and washers/nuts. All copper washers for banjo bolts. Oil return flange gasket. turbo/manifold & manifold/head & turbo/downpipe gaskets. Compressor housing seal. New heatwrap OR ceramic coating for downpipe & manifold.
Anyone know a place to get good gaskets, dont want cheap crappy ones?
_________________
http://www.fiestamk7.com
- A forum dedicated to the Fiesta Mk7 - 1 year old and going strong!
http://www.fiestamk3parts.com/
Info and guides on the Mk3 Fiesta
I like boost!
Formerly cookie456_the2nd