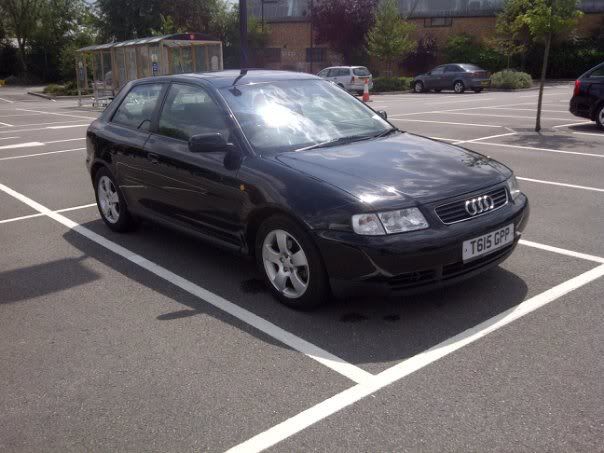 will get more pics
Audi A3 1.8T SPORT 1999
150bhp - Good Strong Engine -
102,000 Miles
- FULL SERVICE HISTORY - STAMPED BOOK
Just been serviced - Oil & Filter
Tax - 30/11/11
MOT - OCT 2012
Bose Sound System (good quality - small sub in boot) with Kenwood CD Player
Passenger Electric Window Motor Replaced (30/10/11)
Recent Ignition Amplifier (common problem for misfires) (JUNE 2011)
Recent Windscreen and Bosch Flat Wiper Blades (August 2011)
"audi" Tax disc holder
Interior is in great condition (only one mat is worn)
2 Brand New Falken 205/55/16 Tyres
2 New Wishbones
Electric Window, Remote Central Locking, Heater Rear Screen
Electric Sunroof
Heated Mirrors
Adjustable speed intermittent Wipers
Bad Points:
- Rust bubbling on roof rails (very slight on passenger side)
- Display screen between Rev Counter and Speedo is not working (common fault)
- Noisy Starter Motor Solenoid when cold (Doesn't affect starting of car at all)
- The car is 12 years old so does have a few scratches and tiny car park dents
Very good car - engine is a peach - really does pull well for being "only" the 150bhp version. Very good motorway cruiser. Due to fiesta coming back and job requiring train to commute i can't keep it - very reliable and if need be very tunable.
£1600 ono
Contact Adam
07792167078